So, it's July, and I'm sure the people of the United States of America celebrated the fourth of this month with immense pomp and festivity. And that's all that July's about, right? The most exciting thing about July is American Independence Day and that brings you 'round to a month of patriotism.
But July is also….(wait for it)….(wait for it)….America's National Ice Cream Month!
Yes, dà jiā, yes. There is a month for that.
"The celebrations were originated by Joint resolution 298, which was sponsored by Senator Walter Dee Huddleston of Kentucky on May 17, 1984. The resolution proclaimed the month of July 1984 as "National Ice Cream Month" and July 15, 1984, as "National Ice Cream Day". It was signed into public law by President Ronald Reagan on July 9, 1984 with Presidential Proclamation 5219." source: Wikipedia
Now, while the resolution just mentioned that particular month and day, it has become a yearly thing! In addition to this, it would interest you to know that the average American consumes almost 22 pounds of ice cream per year!  For my fellow SI measurement countries, that's 9.97 kgs of ice cream a year! About 9% of America's dairy output is used in the manufacture of ice creams.
Credit: http://www.pbs.org
I mean, ice cream is such an integral part of the lives of the Americans that the immigrants at Ellis Island were served ice cream as part of the welcoming to America. Added to that, the year the American Declaration of Independence was made was the same year that the first ice cream parlour in American was founded. It's only fitting that ice cream and American independence are celebrated in the same month!
Here are 10 quick facts about ice cream, in honour of this month:
1.  Ice cream as we know it seems to have emerged in 17th-century France
2. The cone didn't appear until 1904, when a Syrian waffle maker at the St. Louis World's Fair began rolling his pastries into horns to help an ice cream vendor who had run out of dishes
3. Americans celebrated the victory of WWII with ice cream. In 1946, they ate more than 20 quarts of ice cream per person. (18.927 litres for my SI unit friends).
4. Missouri designated the Ice Cream Cone as the Official State Dessert in 2008
5. Ben and Jerry's has a real physical graveyard in Vermont for retired ice cream flavours.
6. Raw Horse Flesh is an ice cream flavour that is sold in Japan.
Credit: atticusinjapan.wordpress.com
7. February 4th is the National Ice Cream for Breakfast Day.
8. In 1985, the biggest ice cream sundae was made in California. It stood twelve feet tall and was made with 4,667 gallons of ice Cream.
9. The Guinness World Record for the largest cup of ice cream is currently held by Baskin-Robbins. Created on September 13, 2005 in celebration of the company's 60th birthday, the enormous scoop of vanilla ice cream weighed in at 8,865 pounds!
10. Despite its reputation as a cosmonaut staple, freeze-dried ice cream only made one mission to space. In 1968, it provided instant sugar rushes to the astronauts of Apollo
The third Sunday of July is celebrated as American National Ice Cream Day, and this year, it falls on the 17th, which is tomorrow! Hope you all have a great National Ice Cream Day, availing all the crazy offers and freebies out there!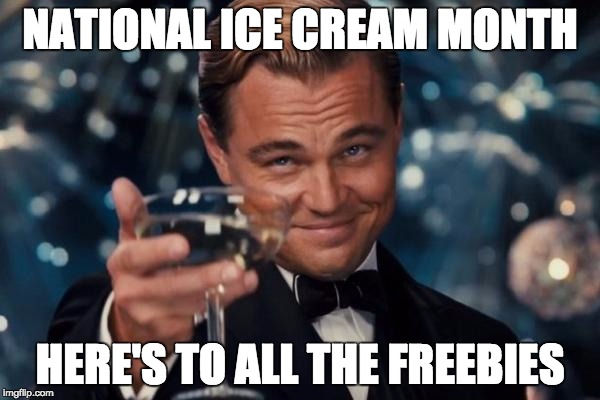 Alpha ❤︎