I have to be excused for the number of 12th grade-related posts on this blog but this is taking too much of my soul away for me to reflect on anything else. Without much further ado, here is a summary of what I'm going through this May, aptly nicknamed the worst month of my life on the calendar.
1. Do I really have to study the same stuff these two months?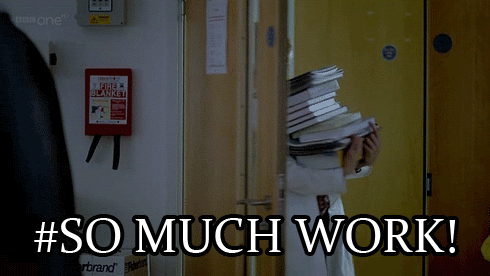 I have been studying the same portions for the past two years and though I know that it's for this moment, I am so extremely tired of seeing the same formulae in front of my face. I have learned literally nothing new, and this huge syllabus in chemistry namely, is really killing me right now because it doesn't get any easier to revise.
2. Organic chemistry is the worst
Okay, there are a lot of people who actually like this subject and find it very logical, and while I'm not saying that isn't true, organic chemistry can seem extremely bizarre sometimes and given that I'm a simple type of person, keeping in mind about twenty thousand things just to solve one problem is not something I want to do long term. Please.
3. Too many entrances…should probably watch Baahubali instead
That's right. Following from point number one, there are just way too many colleges to which I am writing entrance exams, and I know for a fact that I won't attend a couple of them, or at least, I would like to attend a better college, hopefully. Why am I writing so many tests? And yet…
4. What if I don't get into a good college? Or any college at all?
Hopefully with some help from the supernatural and a whole ton of luck, I'll be able to go where I want to. If not, I'll be left frustrated my entire life. And if I get in nowhere-well, who says we need higher education?
5. I want to die
Yeah, sometimes I think I'd just like to vanish off the face of the Earth and return only when I'm 24, have a stable job and quite probably a nice house. I don't want to face the ugly days in my life. NOT WORTH IT THOUGH. Better to stay strong and stick it out. You'll only thank yourself later, when you're a wiser person.
6. After this is done, I am going to CHILL
Yep. When all this is done for, I shall kick back and relax and watch a Star Wars marathon, eat pizza and just sleep. I shall be at peace. That is, until the results come out.
It's exam season! Don't stress too much guys, don't ruin your health over these exams right now because there's always something better around the corner and life goes on no matter where you end up doing your degree. Best of luck to everyone who's writing entrances right now!
Alpha